73.9% of Marketers are Using Video as a Crucial Component of their Sales and Marketing Strategy: GoodFirms Survey
24.6% of Marketers use tutorial videos as a part of their content marketing strategy.
Washington, March 27, 2023 (GLOBE NEWSWIRE) -- GoodFirms, an internationally recognized B2B ratings, and reviews platform, recently released its new research report-" Video Marketing - Usage, Market, Scope, and the Future ." It attempts to provide companies with valuable insights regarding the current video marketing trends, shifts, scope, and future outlook to help them plan strategic decisions and achieve their video marketing goals. The survey also reveals consumers' perception of videos over other content forms.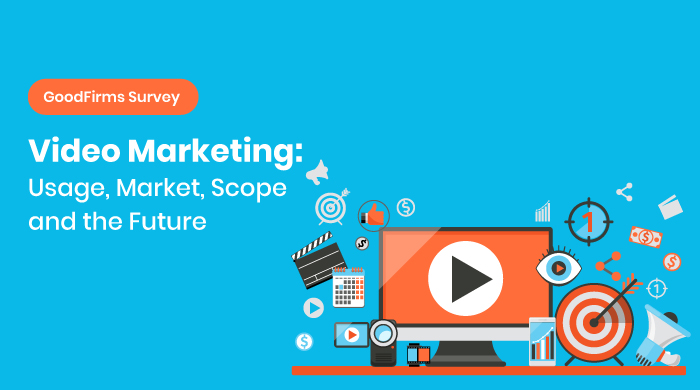 The study highlights that video marketing has become a robust business strategy to help them shape their brands' identity, introduce their goods/services, reach more customers, build relationships with their patrons, and retain an audience. The research also analyzes how with a spectrum of rising technological advancements, businesses now have the accessibility to video creation tools and software to produce and distribute video content. The research further states how using AR/VR and AI with video marketing can enhance branding activities  and improve customer experience.

GoodFirms' research uncovers that the growing usage of video content in marketing will continue to rise. About 73.9% of marketers already employ video marketing as part of their overall sales and marketing strategy to gain more exposure and interact with customers, as per the survey results

Through this survey, GoodFirms attempted to gather insights on  the prime objectives of an effective video marketing strategy: 81.2% of respondents indicated that video marketing  increases online engagement, and 74.6% said it enhances brand awareness. Increasing lead generation, website traffic, customer education conversion rates, and sales revenue are other significant objectives of video marketing strategies.

GoodFirms research further unveils the most commonly used video content to promote brands, products/services. About 43.5% of surveyed businesses use animation-short video ads/GIFs, 34.2% use animation-explainer videos, 30.5% use video blogs, 27.9% use testimonials, 24.6% tutorial videos, 21% use internal/industry expert interviews, 18.3% use product demonstrations video, 15.2% use webinars, and 10.4% use live events.

Around 80.6% of surveyees assert that the purpose of creating videos is to post on social media, 73% prepare it for content strategy, 68.5% for branding purposes, 56.1% for embedding it with their website, 47.3% to gain ranking and traffic generation, 39.1% to enhance their audience engagement with the brands, and 34.8% to educate/instruct their customers about their products/services.

About 70.5% believe a good script, 65.2% say knowing the audience, 58.7% say purpose-built video, 41.5% communicating the brand value, 35.4% say including a call to action, 26.9% say using images/pictures, etc. as the top key elements for making a successful video.

Further, the research discloses that 75.3% of the surveyed video marketers use technology to create content for marketing videos.

The major video marketing platforms are Youtube, LinkedIn, Facebook, business websites, InstagramIGTV, TikTok, Vimeo, and Self-Hosted.

The research analyzes vital challenges of video marketing: budget, creating compelling content, video distribution, inadequate production resources, SEO issues, lack of metrics to measure success, and others.

Key Findings:

Videos help create a seamless, interactive experience for viewers that merges content and commerce.
81.2% of the surveyed marketers say increasing online engagement with the audience is the topmost objective of video marketing strategy
76.5% of the survey participants prefer YouTube for circulating their marketing videos.
60.9% of the surveyed video marketers believe an inadequate budget is a major challenge to their video marketing strategy.
51.6% of the surveyed participants said that creating compelling content for videos is one of the obstacles they deal with in video marketing.

About Research:

GoodFirms Survey-" Video Marketing - Usage, Market, Scope, and the Future " queried 920 companies worldwide to analyze how they are using 'videos' to inform audiences and promote their product or services.

To read and download more research articles by GoodFirms, click here.

If you wish to participate in GoodFirms' future research studies, register your name and company details with GoodFirms.

About GoodFirms :
GoodFirms is a Washington, D.C -based B2B review and rating platform that focuses on delivering rich, original, and in-depth coverage about the IT products and services to the readers. The company works with a mission to serve the B2B players. Both service seekers and service providers benefit from the reviews, ratings and research insights delivered by GoodFirms.

Sophia Jayden
(sophia@goodfirms.co)