Jánelle Marina Méndez Viera Awarded the Prestigious 2022 Human Rights Award From the United States Institute of Diplomacy and Human Rights
Opposition to Méndez Viera's work has attempted to silence the autodidact theoretical researcher after she went viral on TikTok during the Big Game.
WASHINGTON, Feb. 17, 2023 (GLOBE NEWSWIRE) -- Puerto Rican American human rights consultant Jánelle Marina Méndez Viera, CEO of Boricua Gringa Human Rights Strategic Advisory, has been recognized for her groundbreaking self-funded research on modern slavery in the Caribbean and its ties to American politics with the prestigious 2022 Human Rights Award presented by the U.S. Institute of Diplomacy and Human Rights.
Despite her accomplishments, the award-winning interdisciplinary social scientific autodidact theoretical researcher shared with followers that she was mass reported after she went viral on TikTok for exposing the sugar industry's ties to both Florida politicians and the modern enslavement of Haitians in the Dominican Republic . This only further emphasizes the importance of speaking up and out against human rights abuses, especially when facing resistance from powerful forces.
Méndez Viera has been praised and recognized for her advocacy for human rights, most notably for authoring and successfully lobbying for the Restoration of Honor Act of 2019 , which was the first intersectional military and veterans legislation in U.S. history. Other legislative successes include the Independent Review Commission on Sexual Assault in the Military, which was signed into law by President Joseph Biden in 2021.
In her upcoming book, " The Pathway Towards Peace: U.S. Human Rights Manifesto ", Méndez Viera documents Haitians' enslavement in the Dominican Republic for American exports and investments, while examining male psychology in the U.S. Méndez Viera discusses her new theory called psychosocial racism and sexism which examines, in her view , how mass media funded by billionaires and corporations such as sugar barons creates the radicalization pipeline which leads to violence against women and minorities.
Since going viral on TikTok during football's biggest night of the year, Méndez Viera advised that her account, Boricua.Gringa, has suffered from mass reporting and has had many videos taken down that were restored upon appeal. Jánelle Marina shared a number of posts showing the ongoing harassment campaign. According to research conducted by the Brookings Institute titled " Gendered Disinformation Campaigns ," "These efforts are part of a larger strategy to weaken the human rights system. State-aligned gendered disinformation campaigns are used as a deliberate tactic to smoother opposition voices, erode democratic processes, and silence demands for government accountability. Research has shown that women's political participation often represents a challenge to entrenched illiberal and autocratic political elites, disrupting what are often male-dominated political networks that allow corruption and abuse of power to flourish. That's why gendered disinformation has been used by some governments to silence demands for change and undermine calls for better governance. Particularly in countries where women are among the most outspoken critics of so-called 'machismo populism', gendered disinformation and hate campaigns are used to undermine political opponents, supporting the notion of politics as an inherently corrupt, cynical, and violent field, unfit for those who are not willing to play dirty."
Contact Information:
Corey Cashmon
Content Director
support@boricuagringa.com

Related Images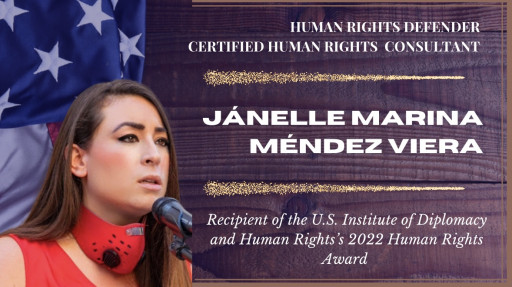 Image 1: Jánelle Marina Méndez Viera




This content was issued through the press release distribution service at Newswire.com .
Attachment