Global Breath Analyzers Market is anticipated to witness a lucrative CAGR of ~15-17% by 2027 : Medi-Tech Insights
Medi-Tech Insights: The rapid increase in the consumption of alcohol, growing cases of alcohol & drug abuse, stringent government regulations, and a growing use of breath analyzers in detecting various diseases are some of the key factors driving the growth of the global breath analyzers market.
BRUSSELS, BELGIUM, May 22, 2023 (GLOBE NEWSWIRE) --

Breath Analyzer is a medical device which is used to measure the amount of alcohol in a person's exhaled breath sample. The device primarily helps in evaluating the Blood Alcohol Level (BAC) in a person's system who is suspected to drive under the influence (DUI) of alcohol. The driving ability of a person is "seriously impaired", if the Blood Alcohol Level exceeds 80mg per 100ml of blood.
Covid-19 Pandemic expanded the Global Breath Analyzer s Market
During the Covid-19 pandemic, there was a significant rise in the demand for non-invasive testing solutions for the detection of Covid-19 and other infections to minimize the risk of transmission while adhering to social distancing norms. Some companies took grants from FDA for using Breath Analyzers for the primary detection of Covid-19 infection. If a person tests positive, then a PCR test is mandatory.
For instance,
In October 2021, Imec developed a chip-based Breath Analyzer Test for Covid-19 infection in contrast to traditional saliva or mucous swab-based test.

An Increasing Usage of Breath Analyzers for Detecting Various Infections & Diseases Boosts Its Global Demand
Globally, several breath analyzers are in the development stage for detecting various infections and diseases. Breath analyzers are a non-invasive diagnostic tool that has gained a lot of research interest in various segments post covid-19 pandemic. These analyzers are used in the healthcare sector for quick primary diagnosis of cancer, tuberculosis, Chronic Obstructive Pulmonary Disease (COPD) and other diseases.
For instance,
In December 2021, Dallas-based SOTECH partnered with Researchers at the University of Texas and developed a sensor that could perform a rapid breath test for Covid-19 infection in just 30 seconds.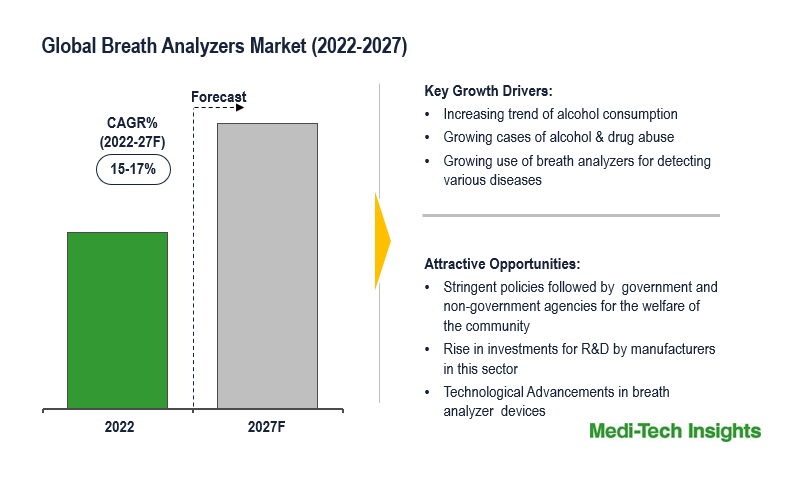 Rise in the Consumption of Alcohol, An Increasing Cases of Alcohol & Drug Abuse, and Stringent Government Regulations Drive s the Growth of the Breath Analy z ers Market
The growing trend of alcohol consumption, strict policies followed by corporate and other sectors to maintain effective BAC (Blood Alcohol Level) at the workplace has increased the demand for breath analyzers in the global market. Also, to decrease the growing cases of road accidents there is a rise in demand for breath analyzers for alcohol detection. These devices are generally non-invasive which is another key factor which is propelling the breath analyzers market growth.
For instance,
In 2021, Dragerwerk AG & Co. KGaA launched Dräger Alcotest 7000 for professional use which can perform a particularly large number of alcohol tests in a very short time, provide reliable results even in extreme temperatures, and also offers quick data transfer.

Key Constraints/Challenges to the Breath Analyzers Market
The high costs and efficiency of breath analyzers are some of the key factors which are hampering the breath analyzers market growth. Some of breath analyzers fail to identify the alcohol molecules present in some regular products like mouthwash, lip balms, paint, and sanitizers. The inability of breath analyzers to give accurate results is the major restraint that is likely to restrain the growth of the market.
North America is Expected to Hold a Major Share in the Global Breath Analyzer s Market
From a geographical perspective, North America holds a major market share in the global breath analyzers market followed by Europe, Japan, and Asia Pacific. This can be mainly attributed due to an increase in demand for alcohol testing to ensure road safety, stringent policies at the workplace, and government laws. However, due to the rising number of vehicles, an increasing number of road accidents due to drunken driving, and rising R&D investments in breath analyzers, Asia Pacific is expected to witness a high and consistent market growth.
Competitive Landscape Analysis: Breath Analyzers Market
The key and well-established players operating in the global breath analyzers market are listed below: -
Dragerwerk AG & Co. KGaA
Lifeloc Technologies
EnviteC-Wismar GmBH
BACtrack Inc.
Quest Products Inc.
Akers Biosciences Inc.
AK GlobalTech Corporation
Alcohol Countermeasure System Corporation
Intoximeter Inc.

Aggressive Growth Strategies Adopted by Key Market Players to Establish Their Strong Foothold in the Breath Analyzers Market
All leading players operating in the breath analyzers market are adopting organic and inorganic growth strategies such as collaborations, acquisitions, and new product launches to garner a larger market share.
For instance,
In September 2022, HOUND® CANNABIS BREATHALYZER , has entered into an agreement with Quest Diagnostics which authorize Quest as the exclusive provider of laboratory services for confirmatory testing of positive breath sample results generated by the HOUND® CANNABIS BREATHALYZER, used by employers on location as an objective measure to detect cannabis use during the workday.

The global breath analyzers market is a growing market and is expected to grow further due to the increasing trend of alcohol consumption, initiatives taken by government and non-government agencies to ensure road safety, investment in R&D to introduce several advanced, noninvasive and portable products, and aggressive organic and inorganic growth strategies followed by the key market players.
Explore More Detailed I nsights on Breath Analyzers Market @ https://meditechinsights.com/global-breath-analyzers-market/
About Medi-Tech Insights :
Medi-Tech Insights is a healthcare-focused business research & insights firm. Our clients include Fortune 500 companies, blue-chip investors & hyper-growth start-ups. We have completed 100+ projects in Digital Health, Healthcare IT, Medical Technology, Medical Devices & Pharma Services.
Contact Us :
Ruta Halde
Associate, Medi-Tech Insights
+32 498 86 80 79
info@meditechinsights.com
Attachment