Zahid F. Sarder Saddi Congratulates Congressman Michael McCaul, Named Chairman of Foreign Affairs Committee
"Bangladeshi Community Activist Zahid F. Sarder Saddi recently expressed heaping support as Congressman Michael McCaul is named Chairman of the Congressional Foreign Affairs Committee. The US House Representative has earned praise as he has established himself as a staunch ally of the Bangladeshi community worldwide, showing a firm and even hand in his policy. McCaul holds a deep commitment to serving democracy all over the world through effective congressional action."
WASHINGTON, DC, Feb. 15, 2023 (GLOBE NEWSWIRE) --  As Congressman Michael McCaul is named Chairman of the US House Foreign Affairs Committee , a key ally and Bangladeshi former Foreign Advisor Zahid F. Sarder Saddi has expressed pride and assurance in the congressman hailing from District 10 in Texas.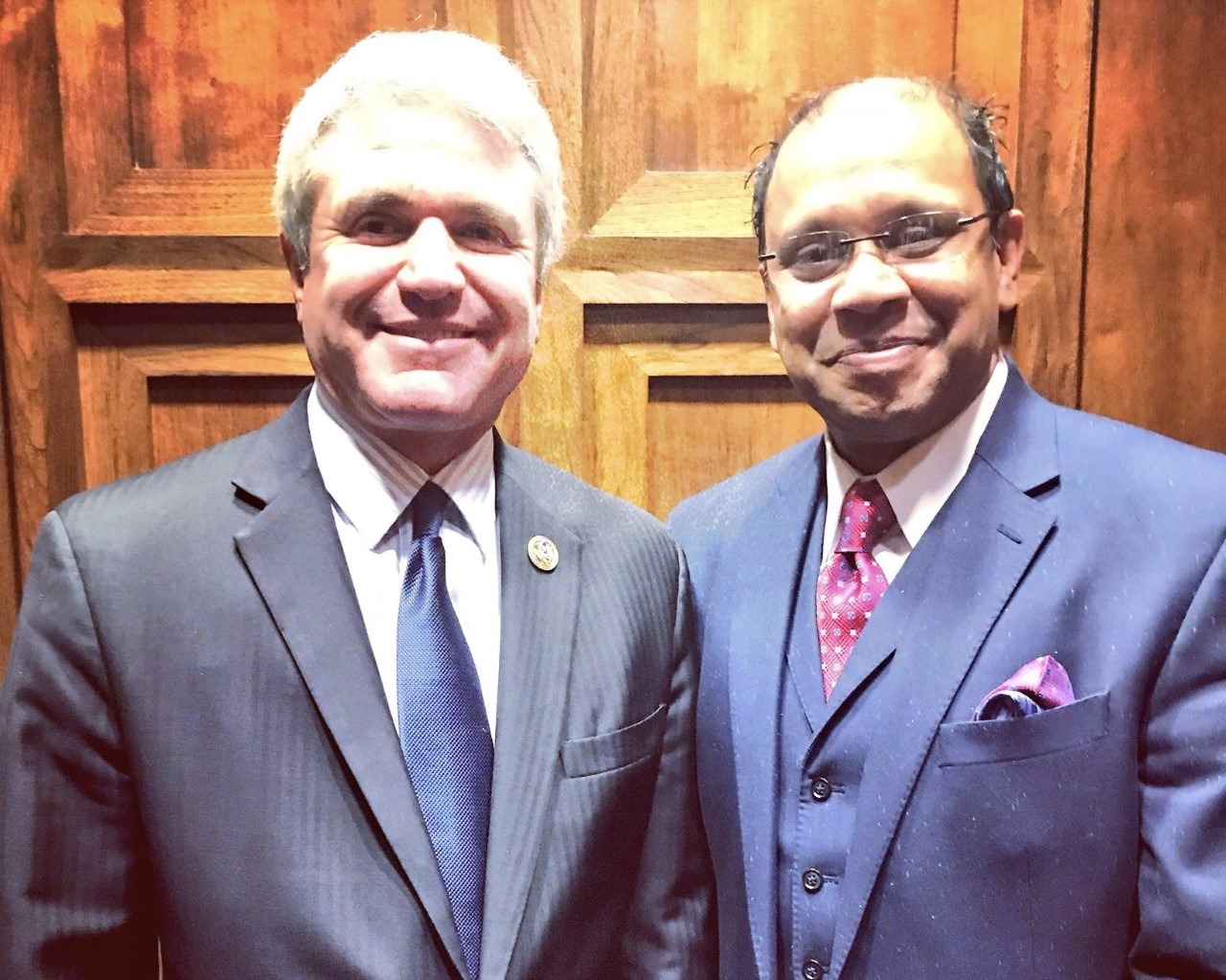 Photo: Human Rights Activist and Civil Society Leader and Bangladesh former Foreign Advisor Zahid F. Sarder Saddi with United States Congressman Michael McCaul | US CONGRESS
"Rep. McCaul has always thrown his full weight behind support for democracy and security internationally and I'm confident he'll continue to serve as an impassioned ally of the Bangladeshi community," Saddi says of his associate, citing a consistent track record in supporting free democratic elections in the Indo-Pacific . Holding comprehensive experience as Chairman of the Congressional Homeland Security Committee as well, Rep. McCaul has made ardent calls to ensure free and fair elections in Bangladesh , taking steps to encourage immediate action on the part of the United States Congress.
Rep. McCaul has taken on the position of Chairman of the new Congressional Foreign Affairs Committee. Saddi previously threw his support behind the congressman , quoted, "I'm confident that Rep. McCaul will no doubt hold the interests of the Bangladeshi people at heart. I'm excited to see the Foreign Affairs Committee take on a bold and unswerving stance on democracy under Rep. McCaul's leadership."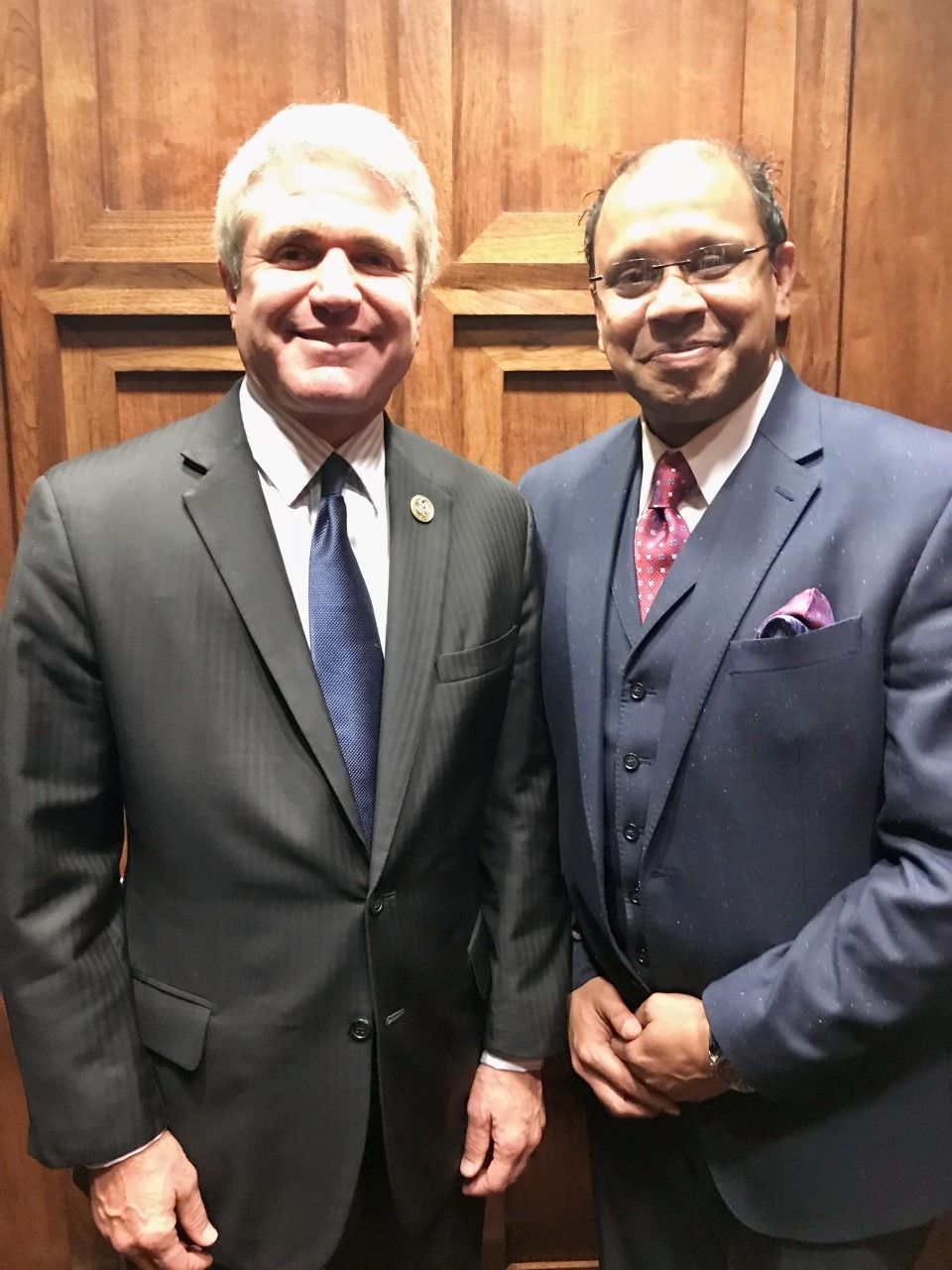 Photo: Human Rights Activist and Civil Society Leader and Bangladesh former Foreign Advisor Zahid F. Sarder Saddi with Chairman of the US Congressional Foreign Affairs Committee, Michael McCaul | US CONGRESS
A committed ally to the Bangladeshi community, Rep. McCaul has been outspoken regarding victims of genocide, such as the Rohingya genocide , commemorating the disaster in its three-year anniversary. The congressman's voting record has shown stellar support of the demographic, preserving and protecting the role of democracy in a working society, emphasizing equity and fairness, and affording grace to people of all backgrounds.

Also announced recently, House Representative Young Kim has been named Chair of the Congressional Subcommittee overseeing the Indo-Pacific in the 118th congress. Congratulated by Saddi, the Bangladeshi activist and former Foreign Advisor took to Twitter to praise the congresswoman on her new role in the US House. Kim has expressed strong support for the Bangladeshi community, emphasizing human rights, religious freedom, and democratic governance . Saddi is confident that Young Kim will bring greater sensibilities to the role, as her connection to the Indo-Pacific region bolsters a strong drive to bring positive change.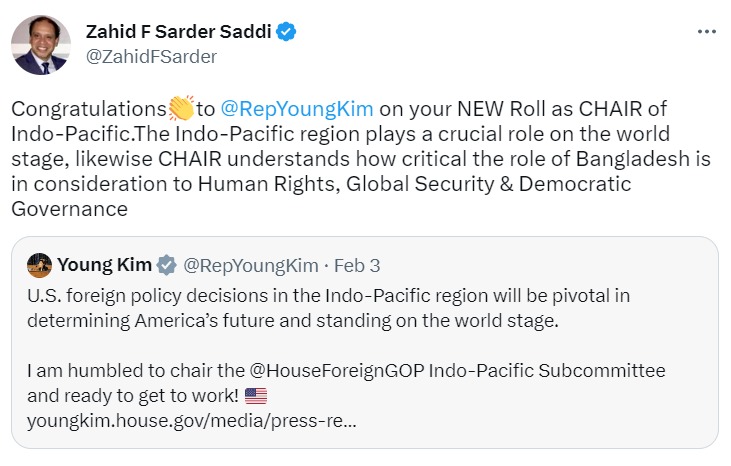 SOURCE: @ZahidFSarder on Twitter
A strong proponent and community leader within the Bangladeshi community, Zahid F. Sarder Saddi is a strong advocate for Bangladeshi citizens worldwide, defending their interests in the House of Representatives and the Senate to support meaningful and effective legislation. As a  Foreign Advisor to the former three-term Prime Minister of Bangladesh, Hon. Begum Khaleda Zia, Zahid F. Sarder Saddi is an expert in providing a unilateral and measured perspective of the politics and other distinguishing factors of the Indo-Pacific. Advocating for the rights of Bangladeshis everywhere , Saddi takes great pride in serving his community to ensure that his people are afforded human rights in the form of greater support for the people as well as the ability to vote in a democratic election.

About:
Zahid F. Sarder Saddi is an influential civil society leader, humanitarian, and advocate for Bangladesh and its people. He helps Bangladeshi expatriates assimilate into life in the United States while also preserving their own values and traditions. Zahid F. Sarder Saddi works with several organizations and holds a special passion for helping the Bangladeshi community in the United States and around the world.
To learn more about Zahid F. Sarder Saddi, please visit www.ZahidFSarderSaddi.com or reach out to Zahid F. Sarder Saddi at info@zahidfsardersaddi.com

 Zahid F. Sarder Saddi

info@zahidfsardersaddi.com